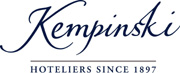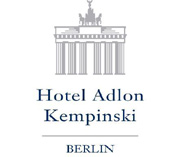 Adlon Kempinski Hotel
Unter den Linden Str. 77
10117 Berlin
Germany

Back to hotels in Berlin list -----------------------------------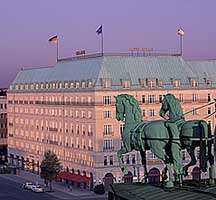 Adlon Kempinski Hotel Berlin
The hotel is situated on the site of the internationally-renowned Grand Hotel Adlon, opened in 1907 by the emperor Wilhelm II himself. Numerous celebrities, such as Charlie Chaplin and Marlene Dietrich, in addition to many Hollywood movie-stars have lodged at this hotel. It's also famous for its gorgeously decorated walls featuring golden tapestries, lofty ceilings, a palace-style ballroom and a magnificent staircase. The hotel particularly recommends its 2 winter-gardens, that reflect the romantic legends connected to this exceptional place.
In the 384 guest rooms you'll find a wide range of modern comforts for your stay: individually controlled air-conditioning, room-safe, mini-bar, fax and computer connections, extra-spacious wardrobe, mobile telephone, and marble bathroom with heated floor, hairdryer, shaving mirror, and dressing table. The hotel features rooms for the handicapped, the allergy sufferers, and 30 business rooms featuring separate sleeping, living and working areas, additionally equipped with kitchenettes and fax machines.
Additional amenities of this luxurious hotel consist of comprehensive conference and banquet facilities, catering services, business centre, health spa, swimming pool, sauna, fitness centre, and beauty parlour.
The Adlon Hotel accepts all major credit cards.