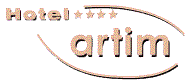 Artim Hotel
Fuggerstrasse 20
10777 Berlin
Germany

Back to hotels in Berlin list -----------------------------------





Artim Hotel Berlin
The Artim Hotel is very cosy and it's situated right in the centre of of the city's western part, near the Ka-De-We department store, the Kurfürstendamm and the Potsdamer Platz, close to the historic city center. Thanks to its excellent location the hotel is just a short stroll away from the boutiques, galleries, museums and other main attractions of this area of Berlin.
This 5-story hotel offers 50 large, elegantly-decorated, comfortable and tastefully furnished guestrooms. In every room, the guests can find modern comforts like shower or bath, WC, hair dryer, telephone and TV. The hotel also features in-room modem and dataport internet access. Double rooms are spacious and many of them are equipped with a table and chairs, and a reclining sofa as well. Rooms located on the fifth floor offer exceptional ambience of a lofty attic.

The hotel features a restaurant and a bar, where experienced bartenders serve international, classic cocktails and exotic drinks. The Artim Hotel also offers a conference room and meeting facilities for 40 persons - making it an excellent choice for conferences. The conference room has natural daylight, is completely soundproof and well-stocked with hi-tech equipment such as laptop screener, overhead projector and others. The hotel also features rooms for handicapped guests.