Dorint Adlershof Hotel
Rudower Chausee / 15
12489 Berlin
Germany

Back to hotels in Berlin list -----------------------------------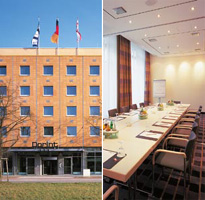 Welcome to Berlin's Dorint Aldershof Hotel. Offering guestrooms with high level of comfort and fully-equipped conference facilities, it is a superb selection for business travelers and conference participants in Berlin.
It offers more than a normal city and airport hotel, the proximity to the Humboldt University in south-east of Berlin and location in the old Berlin district of Köpenick, but it is also a popular conference hotel and a popular starting point for city trips and short breaks in the German capital. The district of Koepenick alone with its historic old town, the castle and the many great pubs and restaurants is well worth a trip, but the excellent public transport links to the center of the city encourage extensive sightseeing and shopping tours. Visit the nearby Müggelsee after a busy business trip or just for relaxation. Exactly the right environment for your next event, whether a conference, seminar or private ceremony. The individual and attentive service at the Dorint Berlin Adlershof is the key to your successful and relaxed stay in Berlin. The hotel offers 120 contemporary guestrooms with air-conditioning, direct-dialling phone, hair dryer, satellite and pay-TV, as well as workdesk with lamp. The rooms in the 3-star Dorint Adlershof Berlin meet the needs of the modern business traveler while offering a bright and modern ambience for relaxation. During the day or in the evening, our "Olive Tree" restaurant serves dishes from the rich South-European cuisine, and the lobby-bar is the perfect spot to unwind following a busy day.
The hotel offers six conference rooms featuring a full set of equipment, such as screens, projectors, audiovisual gear, and a lot of additional state-of-the-art devices necessary to hold a successful meeting or conference; and our professional Conference Team is ready at a moment's notice to assist you in organizing your event efficiently.
The hotel offers no sports or leisure facilities. But, our personnel has an ever-growing multitude of ideas on things to do see in the hotel and its vicinity. You only have to ask, we're gonna be delighted to attend to all of your requirements!
We accept major credit cards.