Sofitel Am Gendarmenmarkt Hotel
Charlottenstr. 50-52
10117 Berlin
Germany

Back to hotels in Berlin list -----------------------------------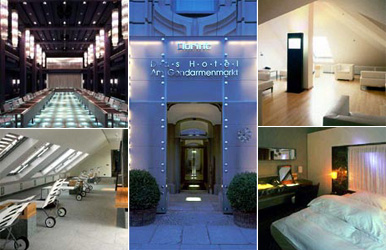 Sofitl Am Gendarmenmarkt Hotel Berlin

We are pleased to present you the Sofitl Am Gendarmenmarkt Hotel in Berlin! This exclusive five-star hotel amazes with its original design and the highest standards of comfort and service in Berlin.
Its 92 modern rooms are exceptionally comfortable and all of them feature a well-equipped bathroom, air conditioning, direct-dial telephone, hairdryer, satellite/Pay TV, Playstation, modem port, voice mail, and working desk with lamp.
The Sofitl Am Gendarmenmarkt is an oasis of culinary diversity. Whether you choose the "Aigner" Restaurant, the Atrium-Caf, or the Bar, you'll always find something special for yourself from the hotel's top-cuisine menu. The wellness area offers many facilities to shape the body and relax the mind. Among these you can find steam baths, sauna, sun beds, massage, and a fitness centre.
The hotel features 4 fully equipped meeting rooms, with a maximum area of 252 m2, and the assistance of our experienced Conference Team, which is always ready to help you organize any kind of event.
All of these combined with the exceptional service from the Sofitl staff, makes this exclusive hotel a truly star among the hotels in Berlin.