Pullman Berlin Schweizerhof
Budapester Str. 21-29
10787 Berlin
Germany

Back to hotels in Berlin list -----------------------------------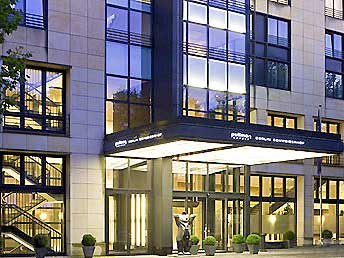 Welcome to the Pullman Berlin Schweizerhof in Berlin! This top-class hotel Pullman Berlin is located in the vicinity of the famous Kurfürstendamm and offers stylish ambience in the heart of Berlin. It combines design and comfort with professional service. Situated in the center of the city, the hotel features 384 guestrooms and 18 conference rooms, in addition to the biggest hotel swimming pool in the entire city.
In the Connectivity Lounge, you have free access to the Internet. With first-class spa services in a newly designed spa and a gym that's open around the clock, we ensure your well-being. You live in modern, expensively renovated rooms with warm colors and plenty of daylight. The elegant design and the facilities are geared just to the high demands of our guests such as functionality and the latest communication technologies. The guestrooms offer a high level of comfort and equipment, including air-conditioning, SAT-TV, direct-dialling phone, hair dryer, minibar, modem jack, and workdesk with lamp. The hotel's leisure facilities consist of an enormous enclosed swimming pool, sauna, steambaths, fitness club, and sun-bathing area. Massages and beauty-care treatments are offered as well.
The Pullman Berlin Schweizerhof has huge possibilities for meetings and conferences. Our 18 conference rooms feature a full range of the latest technical equipment and our superbly-trained Conference Team is always going to assist you in the organizing your event. The Pullman Berlin Schweizerhof features a restaurant specialized in Mediterranean cuisine. Enjoy the stylish atmosphere and relax on the sunny terrace. There's also a lobby bar, where our guests will find the right place for good conversation with a cold beer or a glass of wine, as well as a rustic beer pub in Old-Berlin style with a friendly ambiance, where you can spend a relaxing evening.
Other available facilities and services include childcare service (on request), laundry valet, in-room safe, and safe deposit box at the front desk. Pets are allowed.
The hotel accepts major credit cards.