Holiday Inn Berlin-Nuernberg Hotel
Nuernberger Street / 65
10787 Berlin
Germany

Back to hotels in Berlin list -----------------------------------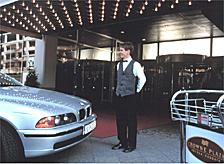 Holiday Inn Berlin-Nuernberg Hotel Berlin

Holiday Inn Berlin-Nuernberg is top-class hotel situated right in the very center of the German capital, just a short distance from the legendary avenue Kurfuerstendamm, the famous department store Ka De We, the Kaiser-Wilhelm-Memorial Church, and the Berlin Zoo.
Built in 2005, the Holiday Inn Nürnberg City Center is located in the middle of the Old Town. The modern 4-star hotel, which is seamlessly integrated into the historic ssetting, offers the latest and highest standard of comfort. The guestrooms feature contemporary furnishings, are fully air-conditioned and equipped with radio/alarm-clock, bathtub, coffee-makers, hair dryers, minibar, and cable television with in-room movies. The hotel is equipped with lifts. No matter how hectic it is outside, inside our hotel you'll enjoy rest, relaxation and hospitality, as if you were in a countryside hotel. Here you will find everything you need to feel good: comfortable and nicely furnished rooms, a wellness area with sauna and mini gym and a sumptuous gastronomic offer. The "Wilson's" restaurant serves contemporary German dishes, whereas the "Pinte" restaurant specializes in a more traditional German delicacies.
Guests can spend their free time in the enclosed swimming pool or at the sauna. They can also work out at the hotel's gym. The hotel is wheelchair-accessible and features rooms with facilities for handicapped guests.
Our wide range of banquet and meeting facilities featuring modern equipment and daylight provides ideal conditions for your event. Additional services available at the hotel consist of laundry services, safe-deposit box, wake-up calls, express check-in/out, gift shop, and photocopy/fax services.