Luisenhof Hotel
Koopenicker Street / 92
10179 Berlin
Germany

Back to hotels in Berlin list -----------------------------------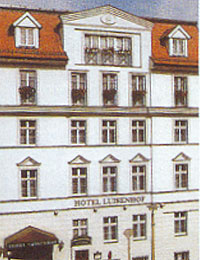 The Luisenhof Hotel has been totally renovated in 1993, following an exciting history when it used to serve as a depository for horse-drawn trams. It's a classical-style hotel that offers a distinctive ambience and a high level of comfort.
The hotel features 26 elegantly-appointed guestrooms and junior suites whose standard equipment includes bathroom, hair dryer, cable television, Internet access, minibar, workdesk, iron/ironing board. Several rooms are also equipped with refrigerators and kitchenettes.
In the morning hours, the Winter Garden is the perfect setting to enjoy breakfast. Fresh and wide-ranging produce is going to ensure an enjoyable beginning to your day. The Luisenhof offers one more restaurant - the Alexanderkeller, serving seasonal, freshly-prepared dishes from lunch-time until the late evening.
The hotel's additional facilities consist of a conference room that can accomodate up to 38 persons and an exceptionally pleasant lobby area. The hotel accepts all major credit cards.