NH Hotel Berlin-Aleksanderplatz
Landsberger Allee / 26-32
10249 Berlin
Germany

Back to hotels in Berlin list -----------------------------------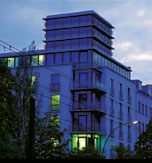 The NH Berlin-Alexanderplatz is situated in the midst of the vibrant life of the metropolis, in the dynamic neighborhood of Friedrichshain. Here you can enjoy all the comforts of a 4-star hotels and find yourself directly in the midst of the cultural hotbed of Berlin. Located in the heart of Berlin, the NH Hotel Berlin Alexanderplatz offers 225 guest rooms on 6 floors, each one equipped with a mini-bar, cable TV, hairdryer, and cable TV. NH Berlin Alexanderplatz features a bright and spacious restaurant offering a rich international menu, including noodle dishes, grilled cuisine, as well as local specialties. It is the ideal place for a business lunch or a private dinner in a relaxed atmosphere. At the day's end, guests may settle down for a drink or two in our bar.
The hotel's amenities include nonsmoking rooms and rooms for handicapped guests, meeting rooms (22 - 312 m2), sauna, solarium, gym, underground car-park, baby-sitting and child-care services, safe-deposit box and laundry services. Take advantage of the numerous business facilities of our house for meetings or events. 12 meeting rooms with area of up to 800 sqm, fully air-conditioned and equipped with modern conference technology, provide optimal conditions. The hotel accepts major credit cards.

The hotel accepts the following credit cards: JCB, Visa, Diners Club and EuroCard/MasterCard.
---
Prices at a Glance
Rooms
 
EURO
USD
Single/Double Room
120-183
137-210
The USD rates fluctuate according to the EURO rate of exchange.
---
Location
The hotel is located in the heart of Berlin, close to the Alexanderplatz, the Brandenburg Gate, and opposite the Volkspark Friedrichshain.



Click here to see the map
---
Recommended Links