Akzent Asahi Hotel
Kurfuerstenstrasse 30
40211 Duesseldorf
Germany

Back to hotels in Duesseldorf list -----------------------------------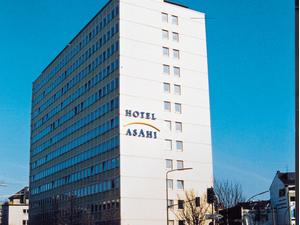 The Akzent Asahi Hotel enjoys a central location close to the railway station and offers top-level amenities. It features 53 guestrooms, including 8 singles and 45 doubles. Every room offers a high level of comfort and features a standard array of facilities that include a bath, shower, WC, toiletries, kitchenette, hair dryer, cable television, trouser press, safe deposit box, tea and coffee maker, minibar, direct-dialling phone and workdesk. Faxes and irons are accesible by request. The hotel also offers nonsmoking rooms, rooms for the handicapped, and rooms for allergy sufferers.
The amenities of the hotel include a bar, restaurant, solarium, fitness club, sauna, and restaurant. At the hotel you'll choose the breakfast of your choice: Japanese or Continental breakfast.
Additional facilities offered by the hotel include a car-park and safe deposit box at the reception. Pets are welcome.
The hotel accepts the following credit cards: American Express, Euro/MasterCard, Visa, Diners Club, JCB, and Electronic Cash.