Best Western Majestic Hotel
Cantador Str. 4
40211 Duesseldorf
Germany

Back to hotels in Duesseldorf list -----------------------------------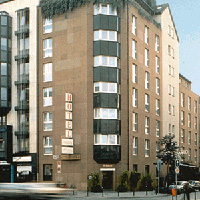 Enjoy your stay in our 4-star hotel with style and comfort. Relax in the private atmosphere of our friendly city hotel. The Best Western Majestic Hotel, a luxurious and elegantly-appointed top-level business hotel, is situated in the very center of Duesseldorf. You're gonna discover a cozy ambience in the Majestic Hotel. The hotel features 52 comfy guestrooms, offering such equipment as bath, shower, WC, hair dryer, cosmetic mirror in the bathroom, cable television, radio, direct-dialling phone, fax connection and minibar. Some rooms have large beds, bath, shower, separate sofa bed, quiet location.
The hotel offers a restaurant, the "Il Castle" that serves superb Italian dishes, and features the Malt Whiskey Bar. Other facilities include a fitness centre and a sauna. The hotel features a parking garage and a lorry parking.
The following credit cards are accepted: American Express, MasterCard, Diners Club, and Visa.