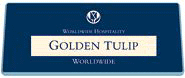 Golden Tulip Grand Hotel
Varnhagen Str. 37
40880 Duesseldorf
Germany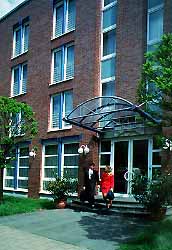 The Golden Tulip Grand Hotel is a superb top-class hotel renowned for its elegant, but warm atmosphere. It is the ideal starting point for your relaxing short trip or your business visit. Explore the Düsseldorf old town with a variety of restaurants from all over the country and do not miss our famous house breweries with their hearty regional cuisine. Visit one of the many museums or sniff the flair of the city's world-famous Königsallee. The hotel features 70 guestrooms offering SAT-TV, direct-dialling phones and radios. With the perfect location and the connections to the public transportation network, the city center, the fairgrounds in Düsseldorf and all the other attractions of the city are reachable in a short time.
The hotel's amenities include a bar that offers international cocktails, a business centre and conference rooms for up to 60 persons. Fax is accessible on request. The hotel also features a car-park, car rentals and plenty of additional facilities that are certain to fulfill the requirements of both business and leisure guests.
The hotel accepts the following credit cards: American Express, MasterCard, Diners Club, and Visa.