Lindner Airport Hotel
Unterrather Str. 108
41468 Duesseldorf
Germany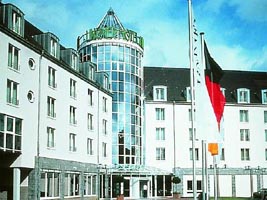 This recently-opened, contemporary hotel situated in close proximity to the Duesseldorf Airport and the fairgrounds is located in the middle of a park and offers a fully-equipped business centre and the latest conference equipment.
The hotel features 201 guestsrooms situated on five floors, including 144 singles, 46 doubles and 11 suites. Every room offers a minibar, colour television with satellite channels, video (on request), business desk, in-room safe (spacious enough for a notebook computer), voice mail, two-line phone and analogue plugs.
Our bistro restaurant "Albatros", renovated in August of 2007 offers a creative and extensive selection of international dishes. Specialties of Italian, French and Asian cuisine are offered for you to enjoy in an easy and naturally delicious way. Other services and amenities offered by the hotel consist of around-the-clock room service, laundry, dry-cleaning and ironing services, baby sitting, and bicycle rentals. The hotel's conference facilities can accommodate up to 150 persons.
The hotel accepts all major credit cards.