Lindner Hotel Rhein Residence
Kaiserwerther Str. 20
40447 Duesseldorf
Germany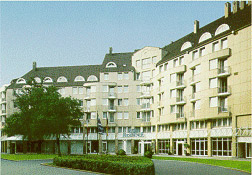 Welcome to our casual city hotel in Dusseldorf with a personal flair. The Lindner Rhein Residence is a cosy city hotel where you'll feel at home right in the center of Duesseldorf. There are small, individual touches that make this hotel in the heart of Duesseldorf feel like a home away from home. The Düsseldorf Old Town is just a stone's throw away and makes the Lindner Rhein Residence Hotel ideal for all visitors to the city. The hotel features 129 guestsrooms on six floors, including 78 singles, 48 doubles, 2 suites, as well as conference rooms. All of the guest rooms are equipped with a mini-bar, satellite/cable TV, video (on demand), business desk, hair dryer and analog plugs. Some rooms are equipped with balconies. Two conference rooms are offered for up to 25 persons.
The hotel features the cozy restaurant "La Residence", serving fresh, lively and light cuisine and delicious homemade cakes in the Mediterranean ambience and southern atmosphere. Enjoy all of this in the summer in our idyllic garden restaurant, in one of the most beautiful green oasis in the middle of town. The hotel offers a wellness area with a sauna, steam baths, massages, and fitness center. Additional services available to the guests include 24-hour front desk, concierge, laundry, dry cleaning and ironing services.
The hotel accepts all major credit cards.