Plaza Hotel
Karl Strasse 4
40210 Duesseldorf
Germany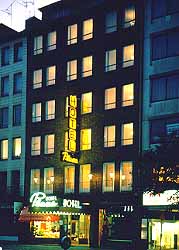 The Plaza Hotel - Duesseldorf is a top level property situated in the center of the city and just 7 kilometers from Duesseldorf International Airport. The hotel features various facilities, which are certain to fulfill the requirements of business as well as leisure guests. Enjoy your visit to Duesseldorf and relax in our hotel, with friendly and competent service. We also offer a 24-hour beverage service, so you can always enjoy a cool drink.
We want to make your stay as pleasant as possible. Therefore, we have decorated our rooms in bright and warm colors. Every guestroom is comfy and has been renovated to a higher standard to assure that your visit is as pleasurable as it can possibly be. Every room features air-conditioning, en-suite bath, workdesk, direct-dialling phone, hair dryer, minibar and cable television. The rooms are all equipped with high-quality microfiber towels, so that allergy sufferers can feel at home here. The Hotel Plaza Duesseldorf is conveniently located for access to many shopping, dining and entertainment spots.
The hotel accepts the following credit cards: American Express, Master Card, Diners Club and Visa.