Queens Hotel
Guenther Weisenborn Str. 7
42549 Velbert / Duesseldorf
Germany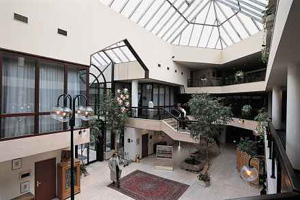 The Queens Hotel is located 30 km away from Essen and Duesseldorf. The Ruhr area, with its plentitude of business and culture points of interest, provides visitors with everything they seek within easy access.
The hotel features 89 guestrooms with high levels of comfort and equipment as well as 6 meeting rooms for up to 120 persons. All the necessary equipment is provided to ensure that your conference is as effective as can be.
Additional services and amenities offered by the hotel include two restaurants, bar, car-park, and health club hat features a sauna, Jacuzzi, and sun beds.
The hotel accepts the following credit cards: American Express, MasterCard, EuroCard, JCB, Diners Club, and Visa.