Renaissance Hotel
Noerdlicher Zubringer 6
41470 Duesseldorf
Germany

Back to hotels in Duesseldorf list -----------------------------------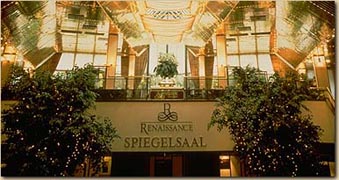 Düsseldorf is a city renowned as a center of fashion with world-famous exhibitions. It is a center of culture with well-known theaters, galleries and museums. Here is Germany's largest Old Town with its approximately 250 restaurants and pubs. The Renaissance Hotel in Düsseldorf is a very coveted property and one of the best hotels in the city. The hotel features 244 comfy, luxurious and elegantly appointed guestrooms and suites on seven floors. The beautifully appointed guestrooms offer comfort, elegant details and amenities such as high-speed Internet. Your initial impression of the hotel is going to be its lobby's elegant, atrium-style design. This is surpassed only by the view from the penthouse swimming pool, overlooking the wonderful skyline of the city.
The rooms are comfortable, nicely decorated and all are equipped with a mini-bar, trouser press, hairdryer, satellite/pay TV, and direct dial telephone/fax. The hotel offers a business center, 10 meeting rooms, and a large ballroom in the ground level.
Amenities include restaurants with varied menus, piano bar, and a wellness area with a swimming pool, sauna, solarium, steam baths, and massages.
Other services and facilities available at the hotel include room service, airport shuttle, laundry services, babysitting, currency exchange, and safe deposit box at the front desk.
The hotel accepts the following credit cards: American Express, EuroCard, MasterCard, Visa, Diners Club, Credit Blanche, and JCB.