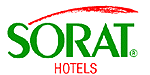 Sorat Hotel
Volmerswertherstr. 35
40211 Duesseldorf
Germany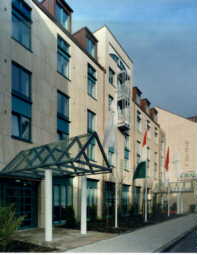 The Sorat Hotel features 160 air-conditioned guestrooms and "maisonette" suites equipped with a shower or bath, phone, fax/PC connection, SAT-TV, radio/alarm clock, air-conditioning, free wireless internet access, flat-screen TV-sets and minibar. The hotel boasts a health-club with a fitness center, sauna and solarium and a restaurant the S-Kultur, that offers international dishes. The hotel also features a bar with cocktails and a relaxed ambience, perfect for lively chats.
The hotel features three meeting rooms able to accommodate up to 250 persons. Additional meeting rooms are available as well. Parking is available in the hotel's garage, which can accommodate up to 130 vehicles.
The hotel accepts the following credit cards: American Express, Diners Club, Visa, MasterCard, EuroCard, and JCB.