Steigenberger Parkhotel
Corneliusplatz 1
40213 Duesseldorf
Germany

Back to hotels in Duesseldorf list -----------------------------------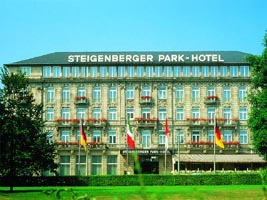 Located right where Duesseldorf's famed shopping boulevards begin and a stone's throw from the Old Town and the Rhine River, adjacent to the Deutsche Oper am Rhein and the Hofgarten, the Steigenberger Parkhotel is luxurious and friendly when it comes to its ambience and services. Behind its classical facade, the Steigenberger Park Hotel offers exclusively furnished rooms and suites with high ceilings and valuable antiques. From a metro station located directly opposite the hotel, you can easily reach the cultural sights and famous places of Düsseldorf. The hotel features 135 guestrooms on 4 floors, including 60 singles, 53 doubles and 12 suites, a business center, and 9 fully-equipped meeting rooms that can accommodate up to 350 persons. Every room features a minibar, colour satellite TV, video (on demand), workdesk and in-room safe (spacious enough for a notebook computer).
Wireless internet is available in the rooms for an additional fee, while in public areas, it is free of charge. Pamper yourself in the spacious, bright Wellness Center featuring saunas and a fitness area. In the gourmet restaurant Menuett, you can enjoy delicious food and exquisite wines, while in the lounge bar during the daytime snacks and pastries are served. At night you can look forward with live piano music in a refreshing beer or an exotic cocktail. Additional services and facilities offered by the hotel include around-the-clock room service, child-care and laundry, dry-cleaning and ironing services.
The hotel accepts all major credit cards.