Marriott Hotel Hamburg
ABC Strasse 52
20354 Hamburg
Germany

Back to hotels in Hamburg list -----------------------------------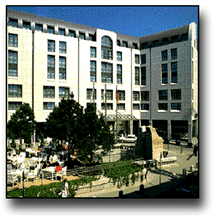 Set not far from the center of Hamburg, and close to Alster Lake, the Mariott hotel excellent accommodation Whether you travel for business, pleasure, or planning a meeting.
Located in the center ofHamburg, the hotel features 267 luxurious guest rooms and 10 suites distributed on 6 floors. The shopping and business area are nearby the hotel. All rooms are provided with a telephones with voice mail, TV set, safe deposit box, air-conditioning, hair dryer, make-up mirror, a convenient working area, lighting, modem connections and plugs, and much more.
In the modern and elegant beauty farm guests will unwind using a swimming pool, whirlpool, sauna and fitness area.
Guests can relax and spend their leisure time in piano bar and summer terrace. In the comfortable restaurant you will savor splendid international cuisine.
Guests will enjoy modern facilities of coffee shop, coctail lounge, hair saloon, car rental desk. For business purposes there are 7 meeting rooms. There is also payable car park. Pets allowed.
The hotel accepts the following credit cards: American Express, Master Card, Euro Card and Visa.