Hotel Koenigshof Am Funkturm
Friesenstrasse 65
30161 Hannover
Germany

Back to hotels in Hannover list -----------------------------------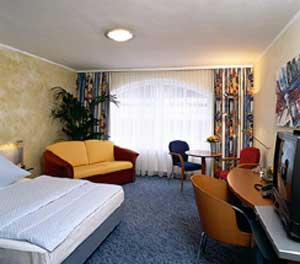 Experience the elegant traditional style and personalized attention of a family-managed business hotel. The Koenigshof Am Funkturm Hotel is located within a several-minute walking distance from the main train station with superb links to the underground, exhibitions center, airport, and major highways.
The architectural variety of its 91 rooms is impressive. In every visit to the Koenigshof Am Funkturm Hotel you will discover stylish antiques and changing art exhibitions. Whether you choose the deluxe, business, comfort or economy class room you won't be disappointed: nearly all the rooms have satellite TV, fridge, trouser press, and ISDN line with laptop connection.
The culinary offer of the hotel is extensive and varied. You can start the day with a copious breakfast buffet, taste the best delicacies at the restaurant, and spend a few quiet hours in the garden terrace. On evenings, you can head yourself towards the bar to give a relaxing end to your day. The conference facilities of the hotel are capable of holding events of up to 120 participants. They are well illuminated and fitted out with state-of-the-art technology.
The hotel accepts all major credit cards.