Hotel Martens
Waldstr. 38a
30629 Hannover
Germany

Back to hotels in Hannover list -----------------------------------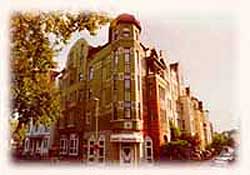 The Martens Hotel is a family-run hotel with a warm ambiance and personal service. It offers 40 comfortable rooms individually furnished and equipped with all the standard facilities of a four-star hotel. These include a cable TV, telephone, mini-bar, shower, and WC.
The hotel offers a varied breakfast buffet in the breakfast room. With a newspaper and a cup of coffee you'll get the perfect start for your day, and Hannover remains within easy reach – the Lister Platz subway station is next to the hotel.
The hotel accepts all major credit cards.