Arabella Sheraton Airport Hotel
Garmischer Strasse 2
85445 Schwaig-Oberding / Munich
Germany

Back to hotels in Munich list -----------------------------------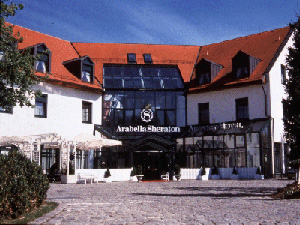 Surrounded by greenery, located very short distance from the Munich International Airport and not a long way from the city's new exhibition venue, the hotel is perfectly located for conferences and business trips and it's also a good destination for relaxing vacations. This beautiful hotel, elegantly styled to resemble a Bavarian country mansion, offers 170 guestrooms on 4 floors, all of them equipped with cable TV, hairdryer, mini-bar, trousers press, modem lines, and safe deposit box. The hotel also offers rooms for non-smokers and the handicapped.
The hotel also features such services and amenities as: child-care services, bar, swimming pool, restaurant, conference rooms, shops, fitness room, and laundry services. Pets are welcome.
The Shuttle-Bus commutes for your convenience between 05.30 a.m. and 11 p.m. on a regular line to/from Munich-Airport (all Terminals and Train Stations). Because of the the local laws, this service cannot be included in the room rate and must be offered at the official rate of 6 EUR.
The hotel accepts the following credit cards: American Express, MasterCard, EuroCard, JBC, Visa, Diners Club, and Carte Blanche.