Herzog-Wilhelm Hotel
Herzog-Wilhelm-Strasse 23
80331 Munich
Germany

Back to hotels in Munich list -----------------------------------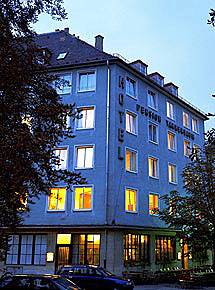 Welcome to Munich's Herzog-Wilhelm Hotel. Our hotel has been the property of the Fahrngruber family for three generations. We offer 46 guestrooms equipped with showers, telephones, and cable/pay television.
For a great start to a day, you're invited to our modern and friendly breakfast room for a rich and balanced breakfast buffet, and at the end of the day, allow us to satisfy your tastebuds with a visit to our own gourmet restaurant "Der Tannenbaum", serving the finest Bavarian cuisine combined with the special "Andechser" beer and an exclusive selection of French wines, located only two doors away.
If you want to hold a conference, our recently-remodeled Hotel "Der Tannenbaum" (50 meters away) offers a conference room capable of accommodating up to 20 people and featuring all the latest technical equipment. The hotel's restaurant offers excellent catering services for your conferences.
The hotel accepts major credit cards.