Marriott Hotel
Berliner Strasse 93
80805 Munich
Germany

Back to hotels in Munich list -----------------------------------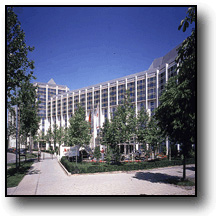 Welcome to Bavaria's capital and the Muenchen Marriott Hotel!
Regardless of whether you're traveling on business, pleasure or want to organize a meeting, the Munich Marriott Hotel wants to ensure that your stay is a successful one. As a top-class hotel, coming from the airport direction (29 km)to Munich, the hotel features direct access to the major highways, the Mittlerer Ring and the Allianz Arena. Municipal transport, the metro and buses, are within walking distance, with a direct line (5 stops) to Munich's centre - the "Marienplatz" stop. The hotel provides a superb setting for any activity, either within or outside of the city.
Each and every of the 348 guestrooms and suites features air-conditioning, high-speed Internet connection, cordless phone and many more amenities that ensure an enjoyable stay. You'll be able to select among various guestroom types: Deluxe, Executive, Suite and "All-In-One-Business" guestrooms, that have been specially- equipped with the needs of business guests in mind. New banquet area with innovative conference packages, permanent coffee break station and supported by our Concept: "Next Generation"!

Pets are welcome. Major credit cards are accepted.