Prinzregent Hotel Munich

Situated near Munich's centre, overlooking the Isar riverbanks, close to the the well-known gold Angel of Peace (Friedensengel), facing the classic Villa Stuck and a short distance away from the fine-food store Kafer, the Prinzregent am Friedensengel hotel offers traditional Bavarian ambience and hospitality, elegant decor and contemporary amenities.

---

The hotel features 65 guestrooms with high level of comfort and equipment to fulfill all of the guests' expectactions. Each guestroom offers a unique ambience, is individually designed and equipped to meet your desires and demands. The rooms provide comfy environment in combination with high-tech equipment, superb working conditions for business guests, and an elegant ambience that you surely are gonna enjoy. Travelling by yourself? Most importantly, your accommodations should be absolutely perfectional. A well-lit guestroom, a spacious bed, a superbly-equipped bathroom - there are times when it's not that hard to fulfill a dream.

The Prinzregent am Friedensengel hotel features 65 comfortable rooms equipped with:

Private bathroom
Hair dryer
TV
Direct dial telephone
Analog and digital Internet access
Mini-bar
Free WLAN
Safe
Working area and writing desk

---

Facilities available to guests:

Finnish sauna free of charge
The Prinzregentenbar offers peace and quiet, Bavarian composure, good humor and warm hospitality. At the bar, people are busy "changing" the world, the drinks are cool and the discussions are hot.
The hotel accepts major credit cards.

---
Prices
Prinzregent Hotel Munich
Prices are per room per day including breakfast, VAT, service, use of welnnes-area, 1 bottle of water per room.
Supplements:

Cancellation Policy:
Cancellations can be made 4 days or earlier prior to the guest's arrival to the hotel without any charges.
Later cancellations will require charging for the first night.
No-show will require charging for 2 nights.

During fairs/exhibitions cancellation can be made 31 days or earlier prior to arrival without any charges.
---
Rooms
Prinzregent Hotel Munich
All rooms are equipped with:

Private bathroom
Hair dryer

TV
Direct dial telephone
Mini-bar
Safe

Analog and digital Internet access
Free WLAN
Working area and writing case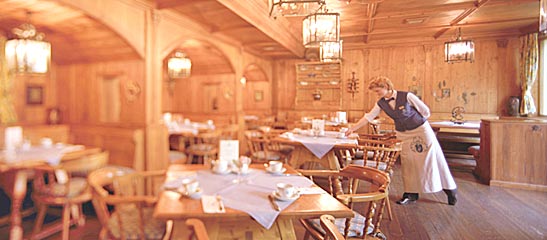 Breakfast room
Back to the top
---
Location
Prinzregent Hotel Munich

Click here
to see the large map


The hotel Prinzregent am Fredensengel is located in Bogenhausen and in front of the Villa Stuck. Tram und Underground are in walking distance and go directly in the city center.

The fair ground is 7 km and the airport 30 km far from the hotel.

When you arrive at the airport you can go by taxi (about 30 min) or by suburban train nr. 8 to Karlsplatz/Stachus and change into underground 4 or 5 and exit at station Max Weber Platz. You have to walk 500 m and reach the hotel. If you go by car, you can use our parking garage.
---
Recommended Links