Advantage Apartment Hotel
Dallinger Str. 5
90459 Nuremberg
Germany

Back to hotels in Nürnberg list -----------------------------------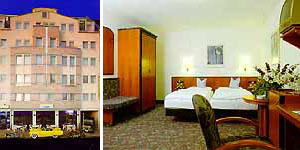 The Advantage is a new hotel with a very special atmosphere located in southern Nuremberg. It offers 49 rooms, 2 suites, and 1 penthouse with luxurious furnishings and facilities.
The standard room equipment consists of a private bathroom, direct dial telephone, fax, radio, cable/pay TV, kitchenette, mini-bar, and in-room safe. Other features of this modern hotel include a sauna, solarium, restaurant, and parking lots.

Pets are allowed.
The Advantage Hotel accepts all major credit cards.