Concorde Viva Hotel
Sandstrasse 4 - 8
90443 Nuremberg
Germany

Back to hotels in Nürnberg list -----------------------------------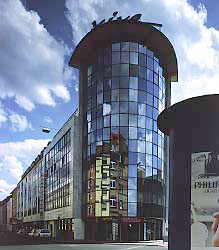 The Concorde Viva Hotel offers excellent, top-class accommodations and emphasizes superb service as well as comfortable rooms. The hotel has 153 large guestrooms, whose standard equipment includes cable television, minibar, direct-dialling phone, and hair dryer. The hotel also offers rooms for handicapped guests
The hotel's amenities include a restaurant serving diverse and tasty cuisine, a bar with a pleasant ambience, meeting rooms, and a car-park. Small pets are welcome.
The hotel accepts major credit cards.