Gerhard Hotel
Pillenreuther Str. 144
90459 Nuremberg
Germany

Back to hotels in Nürnberg list -----------------------------------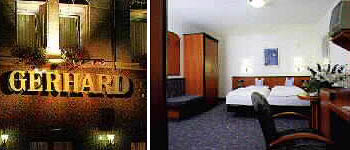 The Gerhard Hotel is a modern hotel placed 1,5 km away from the city centre. It offers 50 single and double rooms equipped with a shower, WC, mini-bar, telephone, and satellite television with video-on-demand.
The hotel boasts a restaurant and a bar, both with a varied menu so you won't have to spend your time finding a place to have meals. There's also a car park and garage available to guests.
The hotel accepts major credit cards.