EuroHotel & Suites Nürnberg
Kaulbachstrasse 1
90408 Nuremberg
Germany

Back to hotels in Nürnberg list -----------------------------------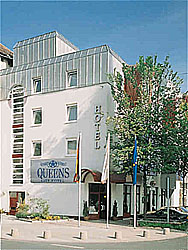 Nürnberg is one of the few German cities which has succeeded in combining modern lifestyle with medieval culture. In addition to the numerous Gothic churches, the famous Toy Museum, the world-renowned Christkindl Market and, last but not least, the Imperial Castle dating back to the 11th century are only some of the attractive spots to visit in the capital of the Franconian country.
The EuroHotel & Suites Nürnberg offers you easy access to the main spots of the city and comfortable accommodations for your stay. It features 121 guestrooms equipped with cable TV, telephone, mini-bar, and hairdryer. Non-smoking rooms and rooms for the disabled are also available. Guests also can enjoy themselves in the health club or the sauna of the hotel. Other conveniences include a bistro bar and car park.
The hotel accepts the following credit cards: American Express, Master Card, Euro Card, JCB, Dinners Club, and Visa.