Silberhorn Hotel
Fischbacher Hauptstrasse 108 - 112
90475 Nuremberg
Germany

Back to hotels in Nürnberg list -----------------------------------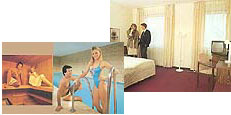 The Silberhorn is a first-class conference hotel placed in a quiet location in the heart of a beautifully landscaped area. Yet, the Silberhorn is only a few minutes away from Nürnberg city centre. Its 65 single and double rooms are quiet and comfortable, and all are equipped with satellite TV, radio, mini-bar, hairdryer, and direct dial telephone. The hotel also offers its guests conference and banquet rooms, a health club, and two bowling alleys.
Other facilities and services available include a bar, restaurant, car park, laundry, concierge service, mini-bar, safe deposit box, solarium, sauna, and shoe shine service. Small dogs are allowed.
The hotel accepts major credit cards.