Leonardo Hotel Nuremberg
Zufuhrstrasse 22
90443 Nuremberg
Germany

Back to hotels in Nürnberg list -----------------------------------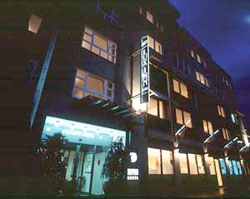 The Leonardo Hotel Nuremberg is a top-level hotel combining contemporary atmosphere and conveniences with Franconian flair and hospitality. The hotel features 103 guestrooms with high level of comfort and equipment, including cable television, direct-dialling phone, fire detector, in-house movies, radio, and bathrobes. The hotel also offers rooms for nonsmokers and handicapped guests.
The hotel's amenities consist of a bar that serves little snacks, drinks and cocktails, a restaurant, coffee shop, sauna and solarium. Additional services include a business centre, child care, and concierge services.
The hotel accepts major credit cards.