NH Hotel Fürth
Koenigstrasse 140
90762 Fürth / Nuremberg
Germany

Back to hotels in Nürnberg list -----------------------------------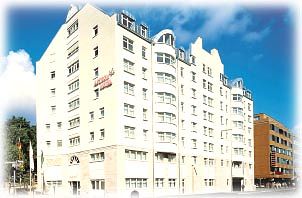 The NH Hotel Fürth offers suites, single and double rooms. All of them are comfortable and feature a bathroom, telephone, radio, TV, hairdryer, and mini-bar. Amenities of the hotel include a fitness center, a restaurant specialized in regional as well as international cuisine, and a bar with assorted drinks and cocktails.
Other conveniences available to guests include express check in/out, parking for 80 cars, non-smoking rooms, and rooms for the disabled. Nearby there's a car rental agency.
The hotel accepts all major credit cards.